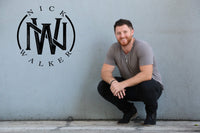 Welcome!
Come shop the new online store for Nick Walker merchandise! See the schedule and tour dates coming to your area! New music on Spotify, Apple Music, Amazon Music, Amazon Alexa and everywhere else you listen to music. Stay tuned for the debut EP "It's All South From Here"
Stream Here
Accumulating over 500,000 digital streams, Nick Walker has been shooting out of the gates quite quickly since moving to Nashville and has climbing up the Country Music charts. Gearing up for his EP to be released, two of his recent singles have landed him in the Top 40 of the iTunes Country Music Charts. In June of 2021, his single, "Somewhere In Savannah" reached the #11 spot on those charts and his most recent single "One Of These Days" released in September 2021 landed on the #33 spot. Be on the lookout for Nick Walker as he books his tour dates and plays his music across the country. 
Watch the music video for his brand new single "One Of These Days"
Nick Walker is a Nashville Recording Artist, originally from the state of Ohio. He has been playing across the country since he moved North to South to Key West, Florida where he lived for his first couple years playing. Since living there, he has moved to Nashville to write music, and to tour across the country. He currently has been releasing music, gearing up for his debut EP, and has been making waves in the digital streaming world. 
Watch the lyric video for the chart topping single, "Somewhere In Savannah" that landed Nick Walker at #11 for the first time on the iTunes Top 100 charts
Somewhere In Savannah - from "Today In Nashville" NBC WSMV Nashville
The chart topping single "Somewhere In Savannah" acoustic performance featured on the segment "Today In Nashville"
"Just Add Water" - Official Music Video
"Smooth Sailing" - Official Music Video
Be sure to see the merchandise store for the line of Smooth Sailing shirts and coozies